Carrot Juice... make you see things on the bright side
This carrot juice drink, made mostly on Sundays, is the crowned king of Jamaican dinner juices. This is only one of the methods we use to make this juice...hear this.

Now juice-making, the one food practice that garners a lot of respect from all walks around the island, has been around for a long time. In as much as I would like to clarify juice-making to our liking, there is a very special reverence when it comes to practicing this craft.

You see, making 'juices' in Jamaica is on a level deeming health benefits, or even better....sustenance. 
Of course sometimes one ignores the benefits of a juice/drink for obvious reasons, but by and large, drinking juice is a very serious issue as well.
We have so many 'juice specialist' whose claims are neither proven or favored, yet we entertain the claims and roll with the explanations. 
So, in the spirit of the 'juice engineers' and others 'juicers,' enjoy this drink.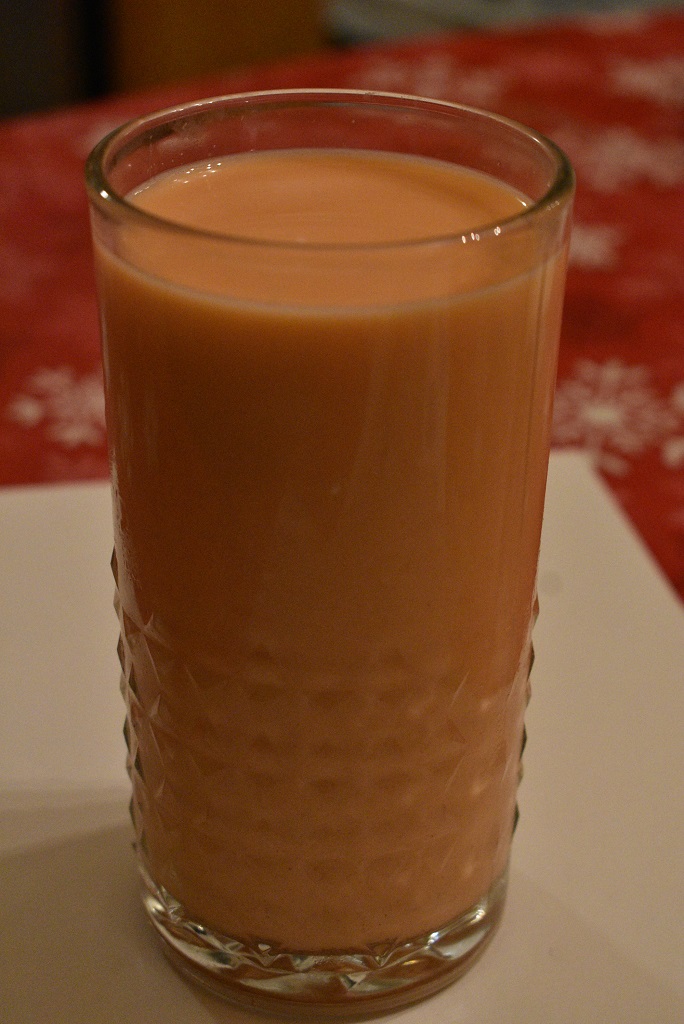 Carrot Juice
Ingredients:
2 lbs. Carrot
1/2 can Sweetened Condensed Milk
¼ lb Sugar
1 tablespoon nutmeg
2 tablespoon vanilla flavoring
4 cups water
Tools:
Electric Blender
Fine grain strainer
Wash the carrots to remove any dirt or foreign matter, then cut the carrots into tiny pieces, let us say 1/8 inch (please, do not measure the pieces just estimate).
Put carrots into the Electric Blender one handful at a time until the Blender is ¾ ways full, each time.
Add about ½ cup of water to the carrots in the Blender. Turn the Blender switch to puree and allow carrots to process until they are ground to a pulp.
Remove pulp and place into a large mixing bowl. Add 1 cup water to pulp. Using your clean hand, squeeze the pulp in your palm, allowing the juice to flow through the strainer.
Put the squeezed pulp on a plate to the side. Repeat this process until all the pulp is squeezed.
Add water to the squeezed pulp that you put on a plate earlier, in a mixing bowl.
Squeeze this pulp again. Drain the juice into another container through the strainer so as to stop any remaining pulp from getting into the final product.
Mix in the condensed milk with the carrot juice, add sugar to taste. Add nutmeg and vanilla flavoring.
You can add more water or more ingredients if you like, to bring about the taste you desire.
You could add a capful of J Wray & Nephew white rum to the mixture to enhance the flavor, if you know what I mean.
YAH MON!!!
P.S: To make carrot/beet juice, just add 1 beet to the carrot when you are blending the carrots.

Return to Jamaican Drinks from Carrot Juice
---