Jamaica Brown Stew Fish

 With more than an ample amount of fish stew recipes to choose from, Jamaica Brown Stew Fish, hands down, is one of Jamaica's all round favorite. 
Mind you, the preparation and cooking variations on this delicious fish stew may make you wonder, though.
While Jamaica Brown Stew Fish requires discriminating against different types of fish, one can conclude that it takes a special effort in making certain the fish selection is right to make this fish stew.
In other words, your favorite fish may not be right for this stew as well. This I discovered some time ago because of my 'mistake' choosing a fish known as 'whiting' to make this stew.
Whiting, a South American import, popular in the South-eastern United States and sold in many sea food take-out restaurants, opened my eyes to extending Jamaica Brown Stew Fish invitation to a new fish.
Since I am partial to salt water fish as well, my expectations were not met after I cooked the whiting. Although the whiting tastes good, I still could not say I would recommend it with this stew. In essence, experiment with the fish you like and then decide for yourself...Cool?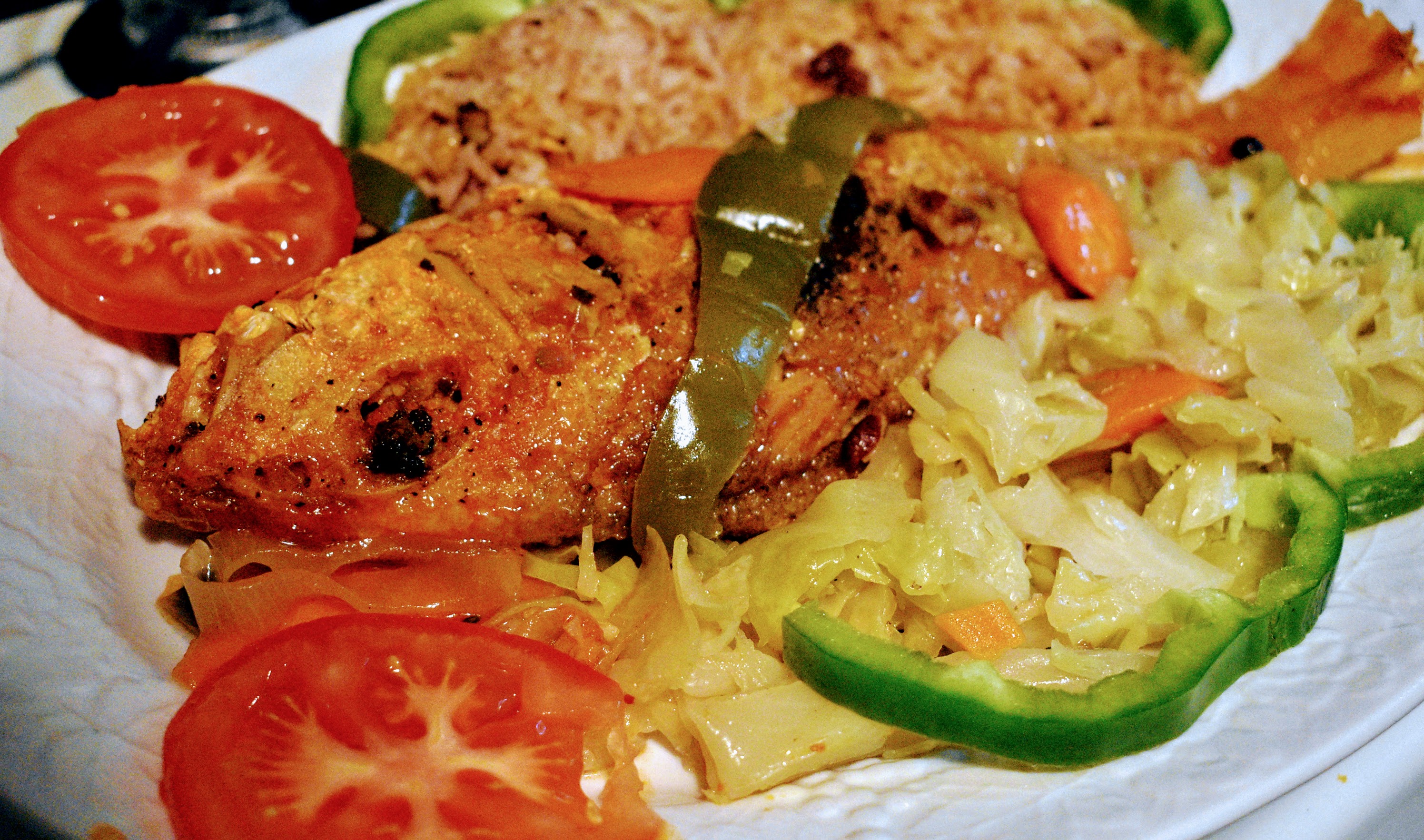 Jamaica Brown Stew Fish.
2lb. Fish (filleted or not)
1 Medium Onion (chopped)
1 Green Bell Pepper(chopped)
1 tblsp. Salt
1 tblsp. Black-pepper
1 sprg. Thyme
1/4 oz. Mushroom Soy Sauce
1/4 oz. Grace Browning
2 cl. Garlic
1 oz Lime Juice
1 Scotch Bonnet Pepper
10 oz. Water
1/4 oz. Ginger Root
There are several different ways to make Jamaica Brown Stew Fish.
This method is commonly used by the people from the southeastern part of Jamaica.
Wash the fish in a lime juice/water solution. Dry the fish with a paper hand towel or cloth to remove all the juice and water; this will stop any potential hot splashes from the hot oil in the skillet, when the fish in placed into the hot oil later on.
Rub a pinch of salt and pepper on each piece of fish. Heat the oil in the skillet on high for 2 minutes or so, then turn the heat to medium. Carefully place fish into the oil in the skillet.
Pan-fry fish until golden brown. During the frying process, do not move the fish around in the skillet because this will cause the pieces of fish to break into small pieces. Its Jamaican Brown Stew Fish you're making, not fish salad.
Remove fish from skillet.
Discard the oil and replace with fresh oil. Sauté the onions, garlic and green bell peppers together. Cover the pot for 1 minute, while the vegetables sizzle.
Next add water to the vegetables and allow the vegetables to cook for another five minutes.
Now add the ginger root, mushroom soy sauce, scotch bonnet pepper, thyme and browning.
Cover the pot and cook for 5 minutes, add salt to taste and then add fish to stew and simmer for 3 minutes.
Serve with dumplings, or rice & peas, or white rice, or pasta, yam & banana, or bread.
Option 1: You can use a little white wine in the stew too- just before you add the browning and soy sauce to the pot.
Option 2: You can add bread crumbs to the stew for extra thickness.
Here is a sauce you may like to put on your Brown Stew Fish.

Jamaica Brown Stew Fish....added sauce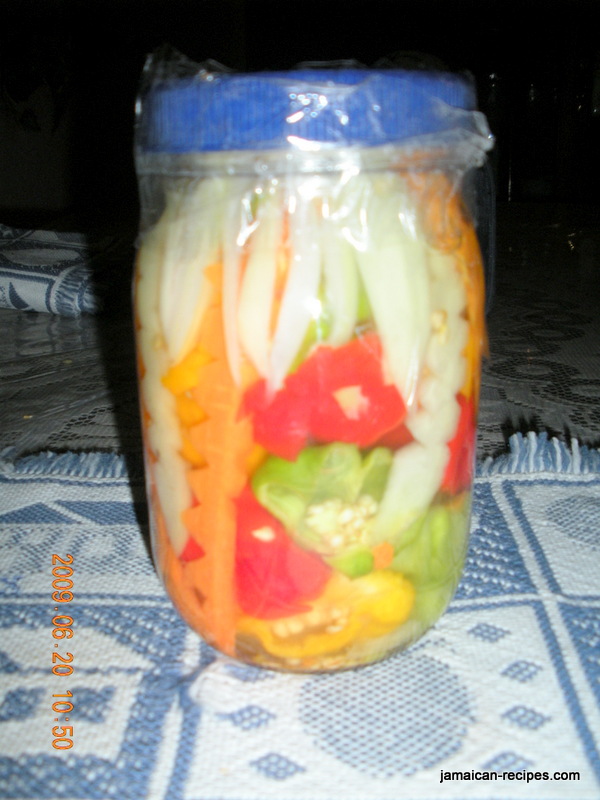 Well of course there is no need to add anything to your brown stew fish, but if you feel bold, add a little bit of Aunt Brownie's pickle to your fish…Yah Mon! Get that vinegary taste with as well.
                            Aunt Brownie's Pickle
8 Scotch Bonnet Peppers (chopped)
2 slices Cho Cho (Christophine)
1 Carrot
1 small Onion (chopped)
Vinegar
12 Pimento Seeds ( Allspice)
1 16oz. Glass Jar or Bottle
Method:
Cut the carrot long ways into 4 pieces. You can further pattern the pieces if you like. Do the same for the cho cho.
Place the pieces of carrot and cho cho inside the bottle vertically. Alternate the pieces so you will get an orange and green pattern.
Now add a ¼ of the amount of the scotch bonnet peppers with four pimento seed, and onions to the jar. If you can, press the peppers into the jar with a small spoon.
Repeat this process until you get everything into the jar. Pour the vinegar onto the ingredients, and then tighten the jar's cover. Let this sit for 1 week or longer before using.
You can use this pickle to spice up cold cuts for sandwiches like, tuna, roast beef, sardine and crackers, bully beef, and anything else you feel like spicing up.
YAH MON!!!