Jamaican Oxtail
Widely known as one the best "fifth quarters" fare, Jamaican oxtails are loved by everyone. Without boasting, this dish was our number one daily seller in our restaurants, excluding beef patties and coco bread. The constant request for more gravy on the rice by repeat customers says it all. And although the cost of bringing this delicious Jamaican delicacy to the public was high, we managed to keep the high quality our customers expect, too.
Now, making Jamaican oxtails is not easy. As with cooking any Jamaican food, patience plays an important role when making this dish. However, this dish should not take forever as some of my friends have said many times.
So, the ongoing belief that oxtails are hard to cook in addition to borderline frustration preparation procedures is now debunked with this recipe below.
Since most 'fifth quarters' recipes as cowfoot and tripe & beans require a little extra effort, it stands to reason that Jamaican oxtails follow a similar path as well. Notwithstanding that the extremities (cowfoot) and innards (tripe) will take special preparation to create palatable dishes, the effort is worth it.
You have to be careful when you shop for oxtails, though. The type of oxtail and brand name make a huge difference. Simply, the lower cost brand will take a longer time to cook than your regular priced meat. You see, oxtail is the top brand while 'cowtail' is the low.
If you have an honest butcher, he or she will explain the difference and allow you to make your choice. Be warned, 'cowtail' is hard to cook because it comes from old cows that are bred for milk…it's old meat. Oxtails are harvested from young steers bread for eating.
Usually priced at a bargain, cowtail has fooled many people as a real deal. And, by default, leave an impression that oxtails are the forever-cooking meat that takes too much time to cook.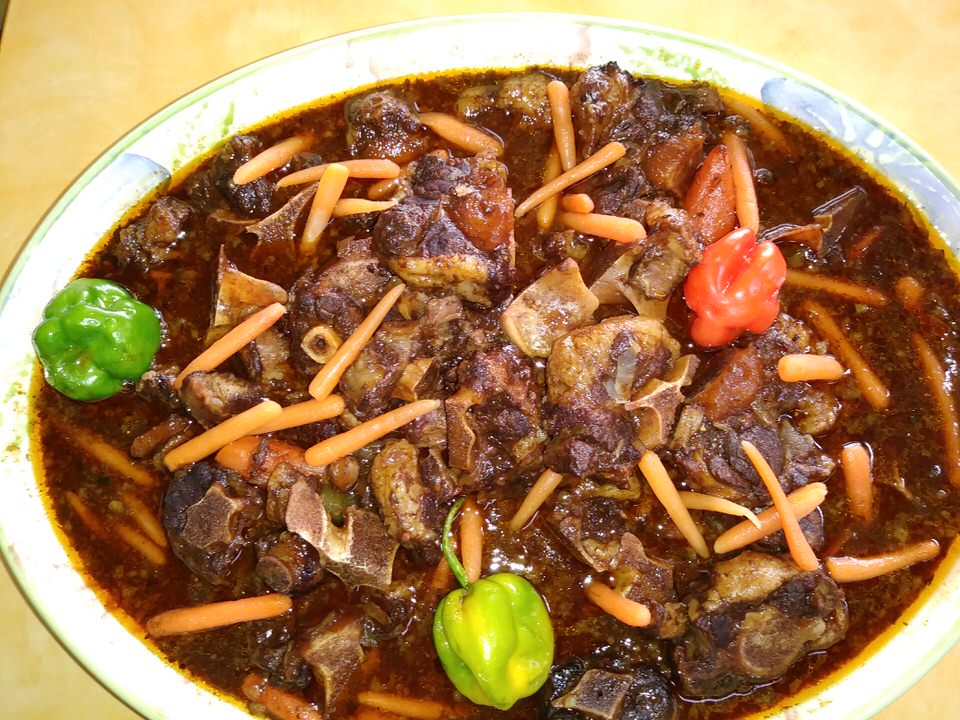 Jamaican Oxtail with Carrots
Auntie Mae-Mae's Jamaican Oxtail (Stew)
Jamaican Oxtail

Ingredients:
2 lb. Oxtail
1 Lg. Onion (chopped)
1 lg. Green Bell Pepper (chopped)
1 tbsp Paprika
2 tbsp. Salt or Seasoned Salt
3 Carrots (cleaned and chopped)
1oz. Jamaican Browning
1 can Butter Beans
2 clove Garlic
4 Stlks.Thyme
6 Pimento Berries (Allspice)
1 oz. Vinegar
Before we start making this stew, I must bring to your attention that there are different ways to make Jamaican-style oxtails, according to my wife Mavis.
The method presented here is one of the ways we know will give you the "seasoned gravy taste."
Another thing, if you cook oxtails very often, lets say twice per week you should invest in a pressure–cooker.
A 14 quart or 20 quart would make you a lot of oxtails in a week, so you decide. OK…
Method :
Trim the extra fat from the meat if there is any. Wash oxtails in cold water/vinegar solution. Put the oxtails in the pressure-cooker with the browning, paprika, and salt.
Add 4 cups of water to the pot. Place the pot on the fire and turn the fire to high.
Allow the meat to cook under this high pressure for a limited time. Here's how, wait until the pressure builds up to its maximum point (threshold), and use your timer or clock to measure two minutes cooking time at maximum pressure.
Turn off the fire and wait another minute. DO NOT REMOVE THE POT COVER.
Slowly remove the pot from the heat source. You can also put the pot in the kitchen sink and run cold water on it; let it cool fast.
When the pot is cool enough, carefully remove the cover and pour the contents into a saucepan. Turn the fire to medium and cook the oxtails until they are medium soft, or soft.
Taste the gravy, now add salt to taste if needed.If the textures of the oxtails are the way you want them to be, add the rest of the ingredients, except the butter beans.
The butter beans should be added two minutes before you finish making this stew.When the stew is ready, you mayserve it with White Rice, Rice and Peas, Pasta, Bread, or Yams and Dumplings.
Note :
The cooking time for these Jamaican oxtails should take about an hour and a half. That's a lot less than the usual 4 to 5 hours it takes to cook oxtails.
And the type of oxtails you use can lessen the amount of time it takes when preparing this dish.
YAH MON!!!
Return to Jamaican Cookin' from Jamaican Oxtail
---