Poor People Cooking...Usual Recipes
Poor people cooking...You know this page may not go over well with all the expert publishers of Jamaican cooking, especially food about "poor people," but after reading these few lines I'll let you be the judge.
The truth is most of the recipes you get in Jamaican cookbooks are well presented and follow the same way of thinking about Jamaican foods. And that is, give the world what you think the world wants. Yeah, put out the best known most-common Jamaican recipes that you think will be widely accepted.
Well I am guilty of that to an extent, but I am about to change by showing you some off- the-beaten-path Jamaican recipes that come from"the less fortunate people" of Jamaica.
Because of the three-tier class structure on the island, which was imposed by the colonial powers, Jamaican cooking or "nyammins"followed an unequal path as well. Just like the general society the food was also tier-structured in many parts of the island.
Those of us who lived in the poorer areas of Kingston, like Jones Town, (I lived there until I was 9 years-old) had a slightly different diet. And other poor areas such as, Trench Town, Craig Town, Allman Town, Rock fort, and Waterhouse were in solidarity with us because of our perceived economic position.
Despite all the obstacles against us, we managed to create tasty foods from all that was available. We roasted our salted codfish and ate it with tomatoes and hardough bread. I see some people today who grew up in those areas shun the thought of anyone knowing that they used to eat Bulla Cake and drink Sugar and Water.
I am not ashamed of that, nor will I ever be embarrassed to say I used to eat Red Herring and Water Crackers. After all these Jamaican "nyammins" were the way to go or you would stay hungry. Like Bob Marley says, "a hungry man is an angry man."
I don't want to be angry at all.
But let's get into these poor man recipes, Cool?
Dutty Gal:
(Dutty in Jamaican patois means dirty, unclean, unsanitary, and loose. Gal means girl in a derogatory way.)
Dutty Gal (poor people dinner or lunch)
1 can Mackerel in Tomato Sauce
1 Large Onion
1 tsp. Black Pepper
1 oz. Oil
Sauté onion until slightly opaque and then add all other ingredients. Turn fire to medium and then simmer until mackerel is soaked in oil. This dish is usually served with boiled dumplings or boiled bananas and sometimes with plain white rice.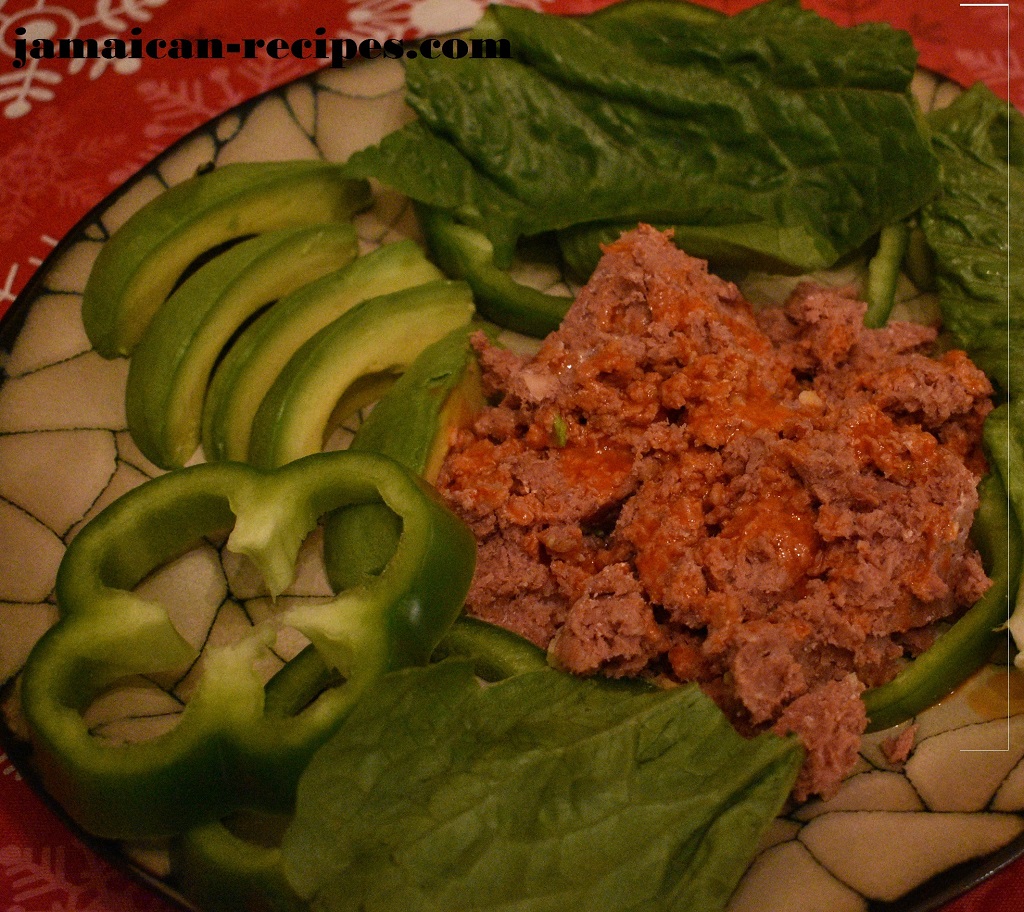 Bully Beef
(poor people salt ting)
1 can Corned Beef
1 Large Onion (chopped)
½ Scotch Bonnet Pepper (chopped)
1 tsp. Black Pepper
1 tsp. Tomato Ketchup
Remove corned beef from can and use a fork to fold in all ingredients. Add small portion to two slices of Jamaica hardough bread. This makes a delicious sandwich especially if you are drinking hard liquor.
Use the same ingredients above to make dinner like this:
Sauté the onions in cooking oil and then add bully beef to the pot. Use a fork to separate bully beef. Cook for about ten minutes. Now you add black pepper and thyme to flavor this meat if you wish. Sometimes we would add boiled macaroni to the bully beef just to be creative. Serve this with white rice.
---
Fish Soup
Mackaback Soup
½ lb. Fish (Makaback)
2 sprig. Thyme
1 small Cho Cho (Christophene cut into eight pieces)
Salt to taste
1 Scotch Bonnet Pepper
3 Allspice Berries (Pimento)
2 Green Bananas (chopped with skin on)
1 stalk. Scallion
½ oz Butter
Wash and clean fish. Remove scales and guts. Bring water to boil in a stock pot. Add fish and salt and then allow fish to cook for 15 minutes. Remove from stove and strain fish broth into another pot; this is done to remove the bones from the broth.
Use a fork and mash the fish in the strainer and further remove the bones from the fish. Add the rest of the ingredients to this pot, except the butter. Cook for another 15 minutes or until banana is soft and then add butter. This fish soup tastes very good especially when it rains. Yah Mon!
Poor people Sandwiches
Quick Sandwiches are very common in Jamaica among poor people. Some of these sandwiches are not your typical run-of-the-mill common sandwiches… you'll see.
Condensed Milk Sandwich
2 slices Hardough Bread
1 tbsp. Sweetened Condensed Milk
Spread the condensed milk on to the two slices of bread. Now eat it!
Bulla Sandwich (poor people special)
1 Bulla Cake
1 Slice of Jamaican Cheddar Cheese
Break the bulla cake into halves and place the cheese between the pieces.
Another bulla sandwich is made with butter.
And there is still another accompaniment with Bulla Cake…Avocado Pear.
The Jamaican Hardough Bread is the favorite for poor people to make sandwiches with Ackee, Callaloo, Sardines, Bully Beef, Cheese, Butter, Ripe Banana, and Plantain.
Red Herring & Crackers
4 XLCR Water Crackers
1 Smoked Herring (poor people caviar)
Break smoked herring into two pieces and sandwich with water crackers. You'll drink a fair amount of water after having this sandwich. Sometimes we add butter to this sandwich.
Bun & Cheese Sandwich (poor people favorite)
1 spice Bun (round bun)
1 slice Jamaican Cheddar Cheese
Slice the bun sideways in halves and place the cheese between the slices. Squeeze the bun and cheese together until the shape of the bun changes from a round circle to a cucumber shape. Dig in!
Egg Sandwich (for uppity poor people)
2 slices Hard dough Bread
1 Egg
1 Pinch of Salt & Black Pepper
2 Slices of Tomato
Butter
Sprinkle salt and pepper on egg in skillet. Fry egg on medium fire until the yolk is hard. Butter bread slices, add tomato slices and egg to bread.
Coco Bread and Beef Pattie sandwich is the standard for poor people lunch food.
Yah Mon!
Pekish Foods (slightly hungry poor people)
Roast Yam & Salted Codfish
½ lb Yellow Yam
¼ lb Salt fish
Roast Yellow Yam and Saltfish on charcoal stove. Remove skin from yam and break saltfish into bite size pieces and enjoy eating with your Yellow Yam
 Oats & Milk
1 cup Oatmeal (Foska, poor people brand)
1 cup Sweetened Condensed Milk
2 cups water
Add water to oatmeal and briskly stir for two minutes. Add sweetened condensed milk to taste. You can eat this with Jamaican hard dough bread or water crackers.
Roast Dumplings
Make a couple of spinners, and put them in the bottom opening of the charcoal stove for a few minutes. Another method you can use is put a small piece of zinc sheet on top of the hot coals and place the spinners on it for five minutes or until roasted.
Roast Corn (poor people street food)
2 Corns on the cob
Roasted corns on the cob were usually sold on the street side all around the metro area. You can remove the corn ears if you like but it does not matter really. Place the corns on the charcoal stove and turn periodically until they are roasted. Wait until the corns are cool and remove the kernels with your teeth. I hope you have strong teeth.
Asham (powdered corn)
Corn is also used to make a powdered treat called Asham. As children we like to eat sweet snacks more than anything else. And this powdered snack is no different. I used to help to make Asham when I was a child but I cannot remember exactly how it's done. However I am going to try to give you the recipe from memory.Do not use the soft kernel sweet corn to make this treat. O.K?
1 lb. Corn (hard kernels)
½ lb Light Brown Sugar
A Pinch of Salt.
Heat the skillet on high and add the corn to the skillet. Use a wooden spoon to turn the corn kernels continuously until they are golden brown. As we say, "parch the corn."When the kernels appear roasted, remove them from the skillet and let them cool.
Here comes the fun part, if you can get a mortar; like a giant pestle and beat the corn to a powder with equal parts of sugar added, then your Asham is made. If you can't do that, use a coffee grinder to make the powder and then add finely ground sugar. The original poor people powdered snack.
Powdered Milk
Powdered milk was another children snack that we enjoyed. The schools were usually in charge of issuing powdered milk to the children several times during the school year. We would take bags of powdered milk home and add brown sugar to it and eat it just like that.
¼ lb. Powdered Milk
2 tbsp. Brown Sugar
Add them together in a mix and eat it by licking it slowly with your tongue.
Powdered Milk Drink
1 cup Powdered Milk
1 ½ cups of Water
2 tbsp. Jamaican Strawberry Syrup. Another way we use powdered milk is add water and Jamaican Strawberry Syrup to it to make a delicious drink.
Poor people Salad
Way back in the old days we had none of the cadre of salad dressings that are available today. But we ate our vegetables just as much as we were told to eat. We ate everything with salt and pepper added to make our veggies taste good. Check this out:
2 Large Cucumbers
1 tsp. Salt
1 tsp. Black Pepper
Peel cucumbers and slice across into thin slices. Put the thin cucumber slices into a large bowl and cover the vegetables. Gently shake the bowl to toss around the vegetables for about two minutes. Remove and add slices of tomatoes and lettuce to serve as a vegetable combo. You can eat this with any major meal.
We moved out of the capital city, Kingston, to the old capital Spanish Town. This was an eye opener for me. Although this city was considered "country," the people were very urban in their thinking and very friendly.
I was inducted into the self- help cooking culture that was established by the many elders years ago. Instead of just going into an ice cream parlor or snack shop, which was a quarter-mile away, to get a quick fix, I had to learn to prepare meals with my new friends.
Some of the poor people foods from the Old Capital are the same as Kingston and more like this:
Cow Foot Jell-O (poor people jello)
1 Cow foot (cleaned and chopped)
1 tsp. Salt
1 can Sweetened Condensed Milk
1 can evaporated Milk
1 tbsp. Vanilla Flavoring
1 tsp. Pectin (optional)
Boil cow's foot with salt until the water is slightly thick and gummy. Strain through a fine grain strainer into a large bowl. Add ingredients to the bowl of cow foot water and sweetened to taste. Refrigerate overnight and serve as dessert with ice cream.
Egg and Orange (poor people tonic)
2 Large Eggs
4 Oranges
1 tsp. Sugar
Beat eggs for ten minutes, and extract juice from oranges. Add orange juice to eggs and mix together.
Serve with ice in small glasses